[ad_1]

A new leak suggests Suicide Squad: Kill the Justice League will have a Battle Pass.
A former Rocksteady employee previously debunked a similar rumor, but this time we have concrete proof.
Several in-game currencies will also be present as the leaked image suggests.
Superhero video games have always been a big thing in the industry. But, the genre has gone up a level this past decade, with titles like Spider-Man PS4 and the Batman Arkham series taking you on fantastic superhero adventures. Capitalizing on the popularity of movies, such games have become sales monsters in the gaming world.
2023 is shaping up to be a big year for gaming, and superhero titles are not behind in this running. Suicide Squad: Kill the Justice League is a major DC video game launching this year. However, it seems like the game will have a battle pass, even though an ex-employee from Rocksteady thinks it's untrue. 
All of this kicked off when a former employee of Rocksteady Studios said the Suicide Squad leaks were untrue. If you are unaware, the leak Del Walker was talking about said the game was originally meant for live service. But Warner Bros. tweaked things after seeing the reception Marvel's Avengers got. 
This leak originated on 4chan, but a Reddit user aggregated it in detail via the r/GamingLeaksAndRumors subreddit.
It is basically a plot reveal of Suicide Squad: Kill the Justice League that should be taken with the biggest grain of salt. But, the most interesting thing about the leak is the claim that it was an online game before. 
We won't bore you with the details of the plot Suicide Squad: Kill the Justice League has, according to the leak. But the summary is that Brainiac mind controls the Justice League except for Diana, who helps us throughout the game.
You kill several members of the Justice League, including Superman who dies in the exact way Zod dies in Man of Steel (trying to laser a group of innocent people).
Our main goal in the game is to reach the Flash and start the Flashpoint Protocol, but Boomerang kills him. As a result, the Suicide Squad takes him to the Lazarus Pit and tries to resurrect him before Brainiac interrupts and kills everyone. Suicide Squad: Kill the Justice League ends with Diana rescuing Flash, but it's basically an edgier version of Injustice.
Now we don't know which part of the leak Walker was debunking, the plot or the live service approach. But, it looks like the latter has proof as a new leak has come out with an image of it. Suicide Squad: Kill the Justice League features a battle pass and in-game currencies according to the image. 
Suicide Squad in game image leaked on 4chan. It has a battle pass. pic.twitter.com/ldwlBx4bcT

— Rebs Gaming (@Mr_Rebs_) January 17, 2023
Again, this leak originated on 4Chan and then spread to Twitter and Reddit. It's just a simple screenshot showcasing Harley Quinn, Deadshot, Captain Boomerang, and King Shark. However, we can see that the options above have names like Battle Pass and Socials.
Even more, interestingly, there are several in-game currencies, like the Fornite V-Bucks, in the upper corner. So, this screenshot suggests either the game has live-service features or did have them in the past. Maybe the 4chan leak wasn't so wrong after all.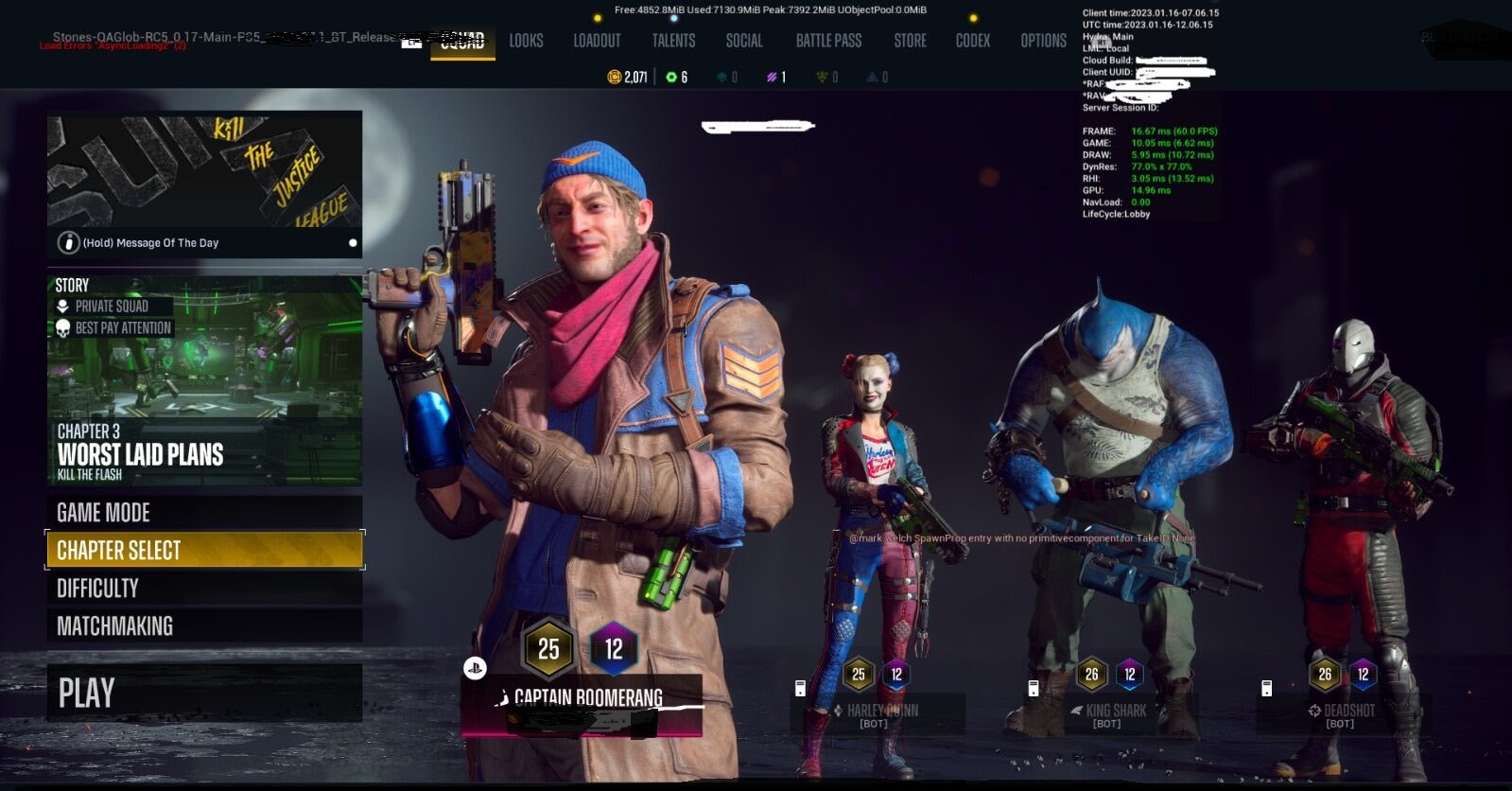 Now, we don't know what is true, the game being live service as the leak suggests, or not as Del Walker said. It could be the game has now scrapped this approach, but it looks too well done not to be a thing at one point in development. Hence, this has become a case of "he said, she said" due to the contradiction among sources.
What makes everything more confusing is that we don't know anything about the game. The only confirmed info about Suicide Squad: Kill the Justice League is that it will be a co-op title with a third-person perspective and feature Brainiac. Gameplay clips are also short and rare, so fans are completely in the dark. 
(embed)https://www.youtube.com/watch?v=KRKZ1ewc9f0(/embed)
Players have not been reacting well to the news of live-service elements as one would expect. Currently, no one has debunked this, but we can only hope it isn't true. Suicide Squad: Kill the Justice League would incorporate Flashpoint well as it takes place in the Batman Arkham universe.
Warner Bros. resetting everything and making more Arkham single-player games isn't impossible. A reply under the plot leak does say the game ends with the new Arkham universe where people don't know who Batman is and Joker is alive. However, only time will tell what is true and what is not.
Similar Reads: Superman Project In Unreal Engine 5 Lets Players Soar The Sky
Was this article helpful?
Thanks! Do share your feedback with us. ⚡
How could we improve this post? Please Help us. ✍


[ad_2]