[ad_1]

Ubisoft+ is one of the front-running video game subscriptions in the industry at the moment, right alongside the likes of PlayStation Plus and Xbox Game Pass. It costs about $15 per month and lets users access an ever-expanding catalog of Ubisoft titles, including Assassin's Creed Valhalla and Tom Clancy's Rainbow Six Extraction.
Unlike Xbox Game Pass or PlayStation Plus, Ubisoft+ does not have any subscription tiers to its name. However, a recent survey by prominent Polish video game storefront GOG might say otherwise. According to one of the questions asked from potential respondents in the questionnaire, three Ubisoft+ subscription tiers can be observed.
Ubisoft has not officially announced any of these tiers that are mentioned in the survey, so it does bear noticing that proceeding ahead with a pinch of salt is likely to be the best possible approach of taking in this information.
---
The Rundown: 
Ubisoft+ is a video game subscription service and a business model that lets players gain access to a vibrant catalog of Ubisoft games for a fixed fee every month. Multiple other benefits are included in Ubisoft+, such as the day-one arrival of new Ubisoft games at Ubisoft+, quite similar to how Xbox Game Pass functions. 
Ubisoft+, unlike PlayStation Plus, which now features various tiers to offer to its users, such as Essential, Extra, and Premium, does not sport a similar model of different subscription tiers. 
With that said, a survey conducted by industry giant GOG has a question that deliberately mentions three tiers associated with the Ubisoft+ subscription—Ubisoft Plus Gold, Ubisoft Plus Ultimate, and Ubisoft Plus Deluxe. 
It's worth noting that a similar scenario popped up about two years ago, with another survey featuring a mention of various Ubisoft+ subscription tiers. Nothing came of it. 
---
Sharing the rumor with us on Reddit, user u/hector_evil has passed around the link to a particular GOG survey. The questionnaire at hand mentions quite an interesting point with its 21st question, asking fans about the services or plans they're currently subscribed to in the realm of gaming.
Following the Nintendo Switch Online options, which, in all honesty, doesn't fair strongly when it boils down to the big players of the industry, arrives a trio of untold Ubisoft+ subscriptions, namely Ubisoft Plus Gold, Ubisoft Plus Ultimate, and Ubisoft Plus Deluxe. 
Ubisoft+ is currently available for PC and PlayStation consoles but not on Xbox systems at the moment. Fans are speculating that the added Ubisoft+ memberships would somehow get exclusive Ubisoft games on consoles on day one, too, not to mention bringing forth a slew of other benefits and advantages. 
With all of the above being said and done, it's important noting that mentions of new Ubisoft+ membership tiers surfaced online about two years back as well, and all in the same format. A survey was put out according to this Reddit user, and it too comprises a trio of novel Ubisoft+ subscription tiers.
Out of the three tiers, one was called Ubisoft+ Basic, with the other two being named Ubsoft+ Lite and Ubisoft+ Classic. Clearly frustrated with the naming scheme of Ubisoft's subscription layers, one commentator said, 
Ubisoft! What's up with you and the numerous, confusing editions of your offerings? 

Just make a Standard and a Premium subscription, I swear it's much easier that way for us consumers. Whoever may be the product manager at this company, they need some evaluation."
Here was one of the photos that got leaked from the survey back in the day.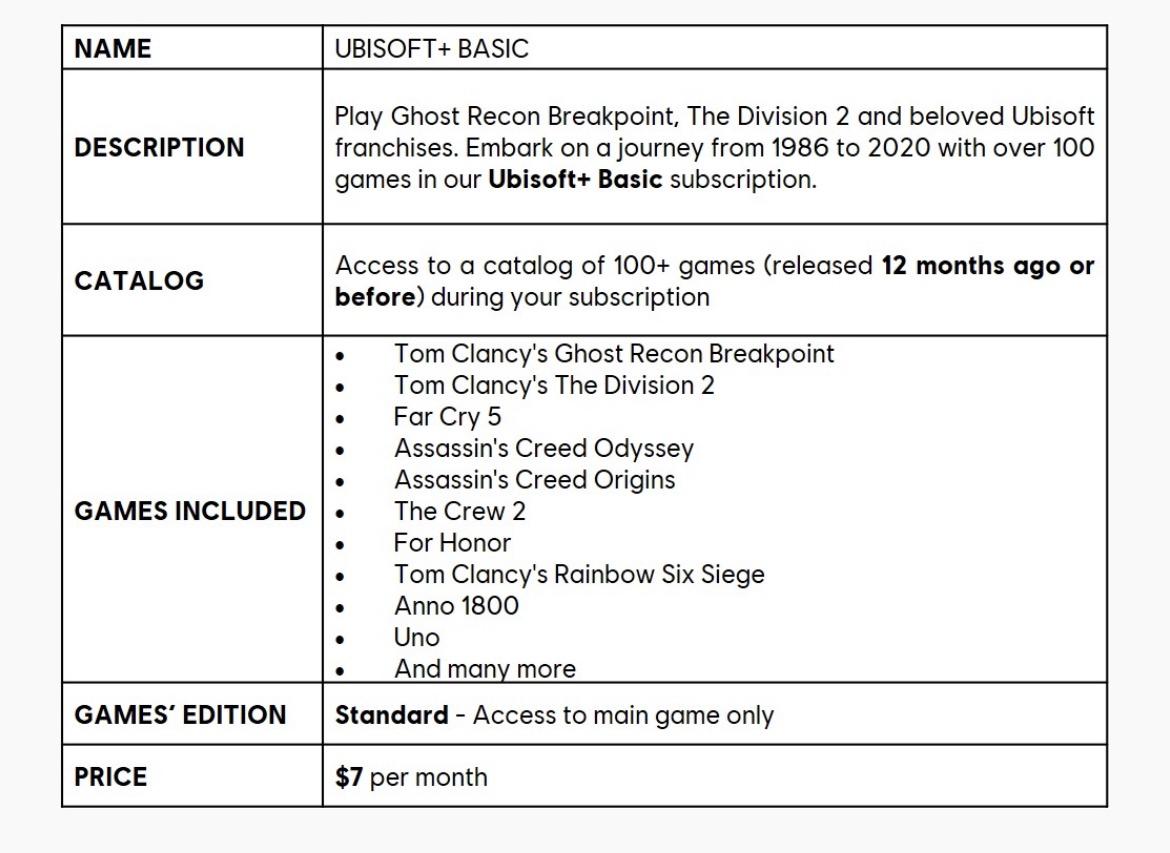 What do you think of Ubisoft+ as a mainline subscription service? Are you subscribed to it as well? Let us know your thoughts down in the comments section. 
Was this article helpful?
Thanks! Do share your feedback with us. ⚡
How could we improve this post? Please Help us. ✍
[ad_2]