[ad_1]

Story Highlights
Chef Life: A Restaurant Simulator has been rated E for Everyone by the ESRB.
The simulator will have in-game purchases according to the rating summary.
Players will also have to deal with annoying customers, making the experience even more realistic.
Simulation games have become a popular addition to gaming culture. Goat Simulator, PowerWash Simulator, Farming Simulator, and Football Manager are just some prominent examples of simulators. In a few weeks, there is going to be another addition to this portfolio in the form of Chef Life: A Restaurant Simulator.
As the name suggests, you can run your restaurant and earn rewards from the famous Michelin guide. Now, the game has been rated by the ESRB and will have an E for Everyone rating. The simulator will also feature in-game purchases, according to the summary from the rating board.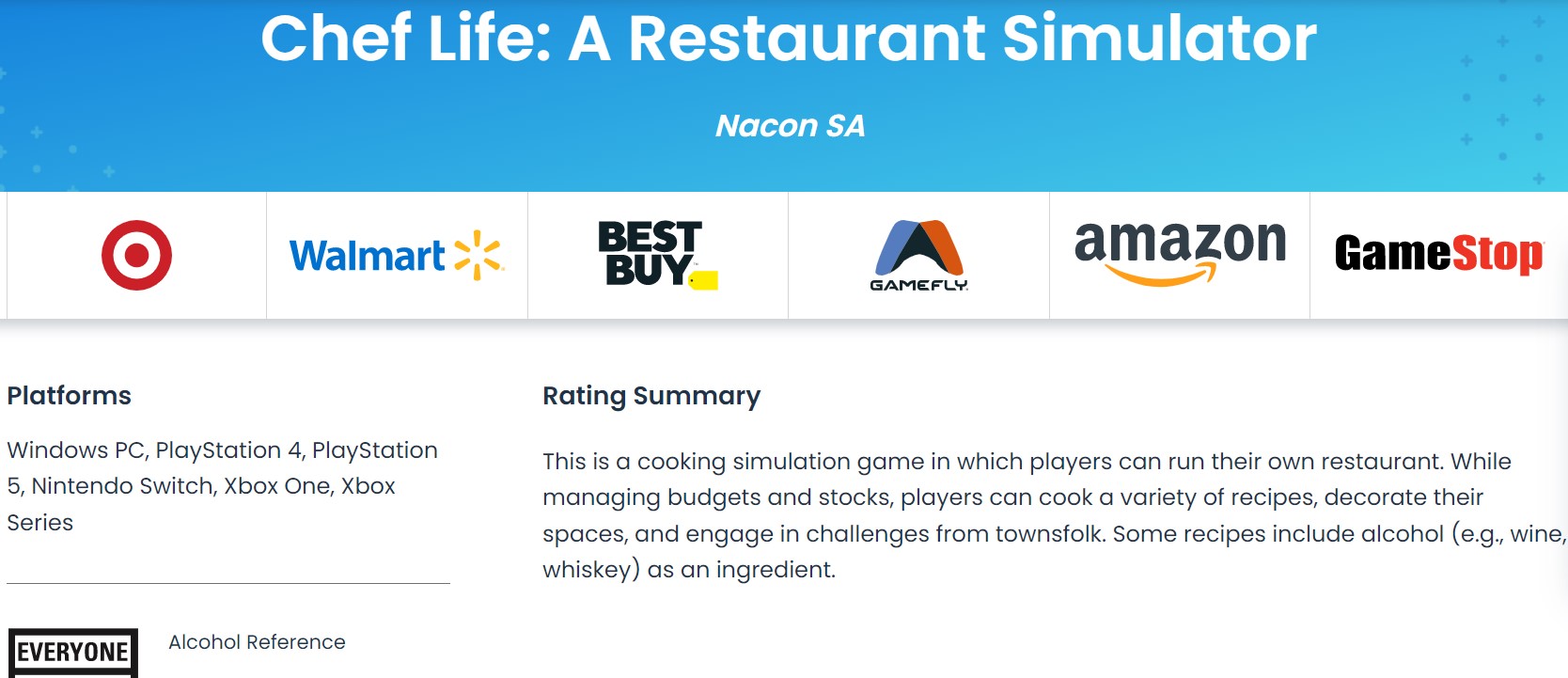 In recent years, simulators have become really common in the gaming industry. Video games are built to let you experience situations that you normally would not or have always wanted to. And, these simulators allow you to do exactly that. 
Games like The Sims, Microsoft Flight Simulator, Bus Simulator, and Stardew Valley are quintessential simulator titles. Not only are they successful commercially and critically, but they are also key parts of pop culture. So, you can understand why we see so many new games in the genre come out every year.
The next big title launching in the simulator universe is Chef Life: A Restaurant Simulator. Developed by Cyanide, the simulator will allow you to build your restaurant from scratch. Its partnership with Michelin adds another coat of realism to the game.
(embed)https://www.youtube.com/watch?v=61Ex1TThwcU(/embed)
You can gain Michelin Guide Stars as you continue to play the game, reflecting on your progress. Now, Chef Life: A Restaurant Simulator has got an official rating from the ESRB. And it is rated E for Everyone, which won't be a surprise for a lot of people.
The summary from the rating board gives us some more detail about the chef simulator. Players will have to manage budgets and stocks while doing all of the cooking in Chef Life: A Restaurant Simulator. Hence, it will be a thorough experience, and you will control everything that happens in your restaurant.
In addition, you will get to decorate the place and choose what you want to cook from a variety of recipes. But, the simulator limits you to this, and you will also have to deal with tough customers. Players will "engage in challenges" from townsfolk, as the rating suggests, and we can assume this means annoying customers.
While managing budgets and stocks, players can cook a variety of recipes, decorate their spaces, and engage in challenges from townsfolk.
Some recipes will include alcohol like wine and whiskey as ingredients according to the rating. Another interesting tidbit in the rating is that Chef Life: A Restaurant Simulator will have in-game purchases. We don't know how these in-app purchases will factor into the game as of now.
French video games company is releasing the game. It is popular for titles like Cricket 22 and simulators like Bee simulator, Hotel Life: A Resort Simulator, and Hunting Simulator. So, it definitely has some experience in this sector.
Chef Life: A Restaurant Simulator will release on February 23, 2023, worldwide. It will be available on PC, PlayStation 5, PlayStation 4, Xbox Series X, Xbox Series S, and Xbox One. Hopefully, you can earn several Michelin Stars on your culinary journey.
Similar Reads: The Ultimate Microsoft Flight Simulator Beginner's Guide
Was this article helpful?
Thanks! Do share your feedback with us. ⚡
How could we improve this post? Please Help us. ✍
[ad_2]